How to remove nitrates and nitrites from water
There are many variables involved here, and as a chemical manufacturer, we do not claim our products remove nitrates from the water. We know our enzymes CV-600 and CV-700 help remove non-living organics, bather waste and oils, but not nitrates specifically. And since we know chlorinated water oxidizes nitrites into nitrates, we only need to focus on removing nitrates. So let's hear what the CDC has to say:
"Nitrate may be successfully removed from water using treatment processes such as ion exchange, distillation, and reverse osmosis. Contact your local health department for recommended procedures.

Heating or boiling your water will not remove nitrate. Because some of the water will evaporate during the boiling process, the nitrate levels of water can actually increase slightly in concentration if the water is boiled. Mechanical filters or chemical disinfection, such as chlorination, DO NOT remove nitrate from water.

Remember to have your well water tested regularly, at least once a year, after installing a treatment system to make sure the problem is controlled."
So there you have it. Normal pool filters and pool chemicals do not remove nitrates from water. And by the way, they put the "DO NOT" in all caps, not us. They really mean it.
If you're interested in reverse osmosis (R.O.), here's an example of one company that puts all the filtration equipment in a trailer and does the process for you.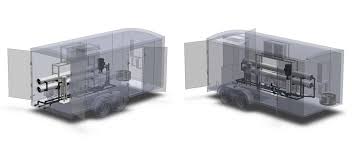 R.O. filtration trailers can remove almost anything from water, including nitrates.
If you find R.O. or ion exchange cost prohibitive, draining and diluting your pool may be the best alternative. And of course, the less urine (urea) in the pool, the better...but let's be honest...that's asking a lot.
Share this entry